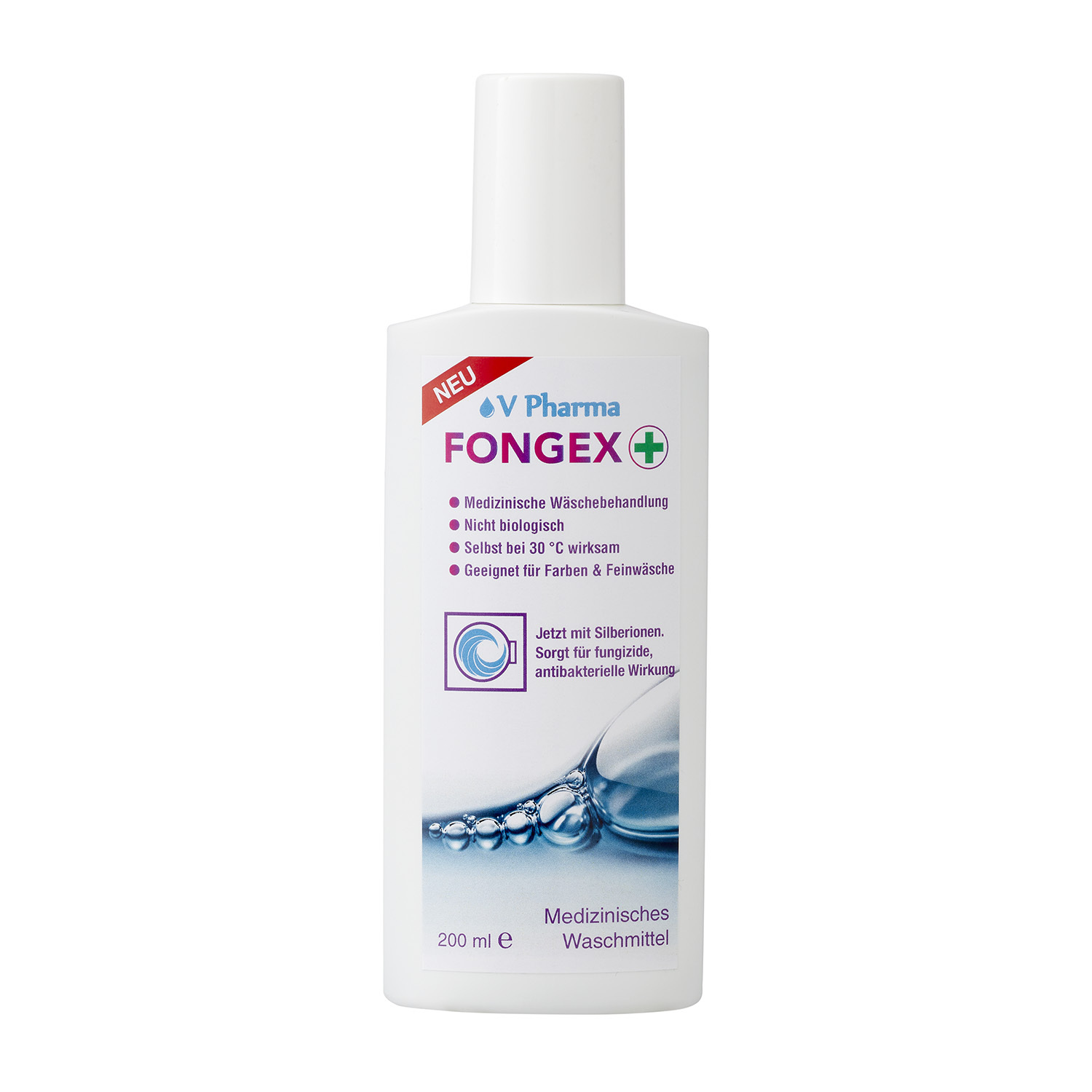 FONGEX (D) 200ml Medizinische Wäschebehandlung £7.49+VAT
£8.99
Das Waschen bei niedrigen Temperaturen kann dazu führen, dass Bakterien und Candida-Hefe-Infektionen in der Wäsche bleiben und dadurch kann es zu einer Kreuzkontamination der restlichen Wäsche kommen. FONGEX™ bekämpft beides und desinfiziert Ihre Wäsche, um weitere Pilzinfektionen selbst bei 30°C auszuschließen. FONGEX™ sollte immer in Verbindung mit einer Behandlung für die spezifische Infektion angewandt werden. Falls Sie Fragen zur geeigneten Infektionsbehandlung haben, konsultieren Sie Ihren Arzt oder Apotheker.
Description
Schlucken Sie FONGEX™ nicht und tragen Sie FONGEX™ nicht auf die Haut auf. Anwendung von FONGEX™ Vor Gebrauch immer die Flasche schütteln. FONGEX™ wird gewöhnlich im VORWASCHGANG Ihrer Waschmaschine angewandt. Bei hartnäckigen Infektionen kann anstatt Ihres gewöhnlichen Waschmittels eine größere Dosis FONGEX™ der HAUPTWÄSCHE hinzugegeben werden. Dosierung VORWÄSCHE Geben Sie eine Verschlusskappe (20 ml) in den Einspülkasten der Vorwäsche. Geben Sie Ihr normales Waschmittel zur Hauptwäsche. HAUPTWÄSCHE Geben Sie zwei Verschlusskappen (40 ml) in den Einspülkasten der Hauptwäsche als Ersatz für Ihr normales Waschmittel. HANDWÄSCHE Geben Sie eine Verschlusskappe (20 ml) in ausreichend Wasser, sodass eine Seifenlauge entsteht. FONGEX™ mit dem Wasser gut vermischen. Für optimale Ergebnisse Die Waschmaschine nicht überladen. Prüfen Sie immer die Pflegeetiketten Ihrer Kleidung und beachten Sie die Waschanleitungen.
Ingredients
Anionische Tenside 15-30%, nichtionische Tenside 5-15%, 2.65g/100g Orthophenyphenol, 1.3g/100g Chlorokresol, 0.01g/100g Silberchlorid, 0.04g/100g Titandioxide, Hexyl Cinnamal, Salicyläurebenzylester, Lilial, Citronellol, Lyral<5%
Delivery & Returns
UK: Post & packing (2nd class Royal Mail) £3.10 + VAT. Non-UK: Post & packing £15. For more details on delivery, please read our delivery information. We want you to be happy with your purchase. If you are not, just return the product to us, and we'll exchange or refund it. You can find out more in our returns policy.