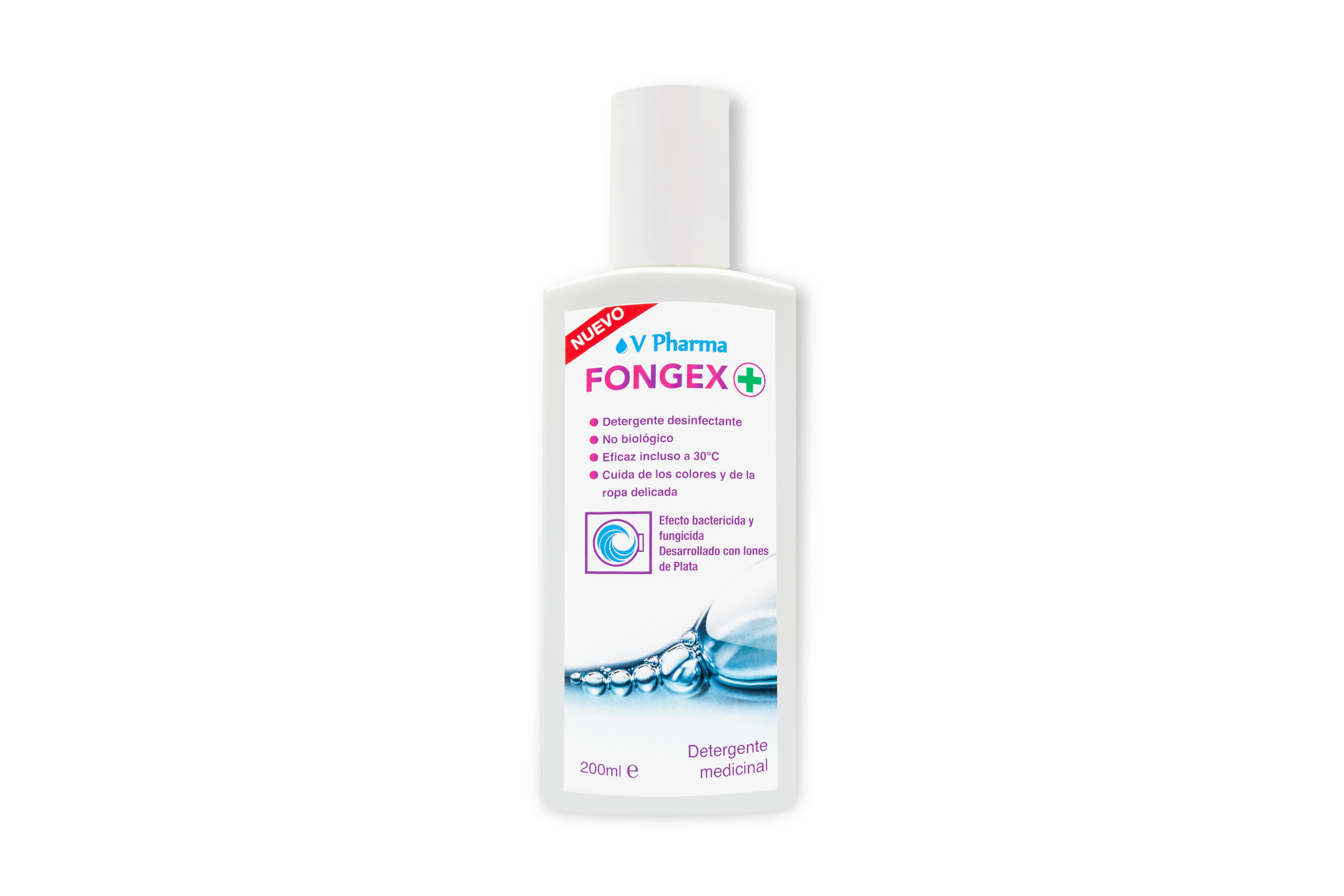 FONGEX(E) 200ml Detergente desinfectante £7.49+VAT
£8.99
Las infecciones fúngicas, bacterianas y las levaduras pueden persistir en la ropa y contaminar el resto de la colada durante el lavado a baja temperatura.
FONGEX™ lucha contra todas esas infecciones desinfectando su ropa para parar la reinfección desde 30 grados.
FONGEX siempre debe estar utilizado con tratamientos específicos a estas infecciones. En caso de dudas, consulte a su médico o farmacéutico.
Description
No ingerir FONGEX™ ni aplicar directamente sobre la piel.
Como utilizar FONGEX™
Siempre sacudir la botella antes de usarla
FONGEX™ suele utilizarse durante el ciclo de prelavado de la maquina. Para las infecciones persistentes, es posible poner mas FONGEX™ en lugar de su detergente habitual.
Dosificación
CICLO DE PRELAVADO: Colocar un tapón (20ml) en el compartimento para el prelavado. Usar su detergente normal en el compartimento del detergente.
CICLO DE LAVADO: Colocar 2 tapones (40ml) en el compartimento de detergente, sustituyendo su detergente normal.
LAVADO A MANO: Colocar un tapón (20ml) y añadir suficiente agua hasta hacer espuma. Mezclar y lavar con agua abundante.
Para mejores resultados
No sobrecargar la lavadora.
Respetar a las instrucciones de lavado sobre las etiquetas de la ropa.
Ingredients
Tensioactivos aniónicos 15-30%; Tensioactivos no-iónicos 5-15%; 2,65g/100g orto-fenilfenol, 1,3g/100g chlorocresol, 0,01g/100g cloruro de plata, 0,04g/100g dióxido de titanio, hexil cinamal, salicilato de bencilo, lilial, citronelol, lyral <5%.
Delivery & Returns
UK: Post & packing (2nd class Royal Mail) £3.10 + VAT. Non-UK: Post & packing £15. For more details on delivery, please read our delivery information. We want you to be happy with your purchase. If you are not, just return the product to us, and we'll exchange or refund it. You can find out more in our returns policy.