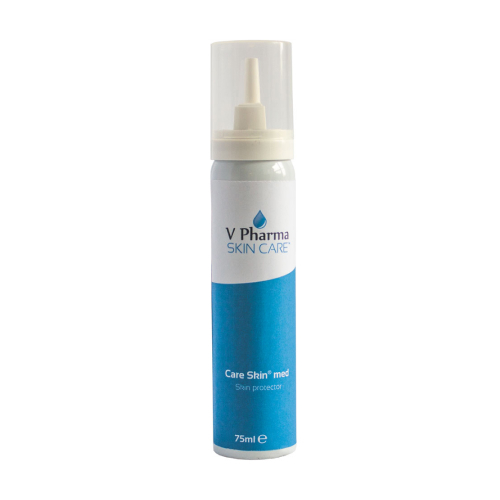 Care Skin® med Skin Protection Foam 75ml £11.66+VAT
£13.99
Care Skin® med is a skin protection foam which forms a protective layer in the uppermost keratin layer of the skin and provides four hour protection against common household agents and occupational solvents/chemicals. It is particularly useful for people who suffer from contact or occupational eczema of the hands. It is also effective in prevention of nappy rash (napkin dermatitis) and has been used with both babies/infants as well as with incontinent adults. A single aerosol can provides 150 applications so will last as long as 3 months with daily use.
Description
Care Skin® med is the optimal skin protection for the following reasons: Care Skin® med does not lie on the skin but instead forms in the skin (uppermost keratin layer) a highly effective protective shield; it does not smear and is not lipid-based; it is invisible and does not impair the sense of touch or transpiration and lets the skin breathe; long-lasting protection for over 4 hours even if the skin is washed several times with soap and water or disinfectant.
The unique formulation, application and creation of a two dimensional network in the skin offer tremendous benefits:
- No risk of sensiblizing properties
- No occlusion or pseudo-occlusion
- Invisible
- Non greasy
- All skin functions remain unchanged Unchanged feel of skin
- Water insoluble
- Easy application
- Long lasting effect - 4 hours protection
- No need to remove
- Skin easier to clean
- Very economical
Care Skin® med has been tested and proofed to be a very efficient skinprotector from:
- Alkaline and acid solutions
- Detergents and emulsifiers
- Solvents and disinfectants
- Lubricants, fats and fatty emulsions Urine, blood, secretions and sputum
- Printing inks, inks and paints Photoprocess-chemicals
- Bitumina
- Mineral and metal containing dust, including cement
- Resins, polyurethanes, catalysts and other aggressive substances
- Lab chemicals
Customer Reviews
"I want to say that this product is excellent if you suffer with eczema or psoriasis it is like an invisible barrier and works for 4 hours without you worrying about using water on your hands especially if you cook in the kitchen and have to use gloves this protects your hands so well it's the best protection I have ever used."
Delivery & Returns
UK: Post & packing (2nd class Royal Mail) £3.10 + VAT. Non-UK: Post & packing £15. For more details on delivery, please read our delivery information. We want you to be happy with your purchase. If you are not, just return the product to us, and we'll exchange or refund it. You can find out more in our returns policy.