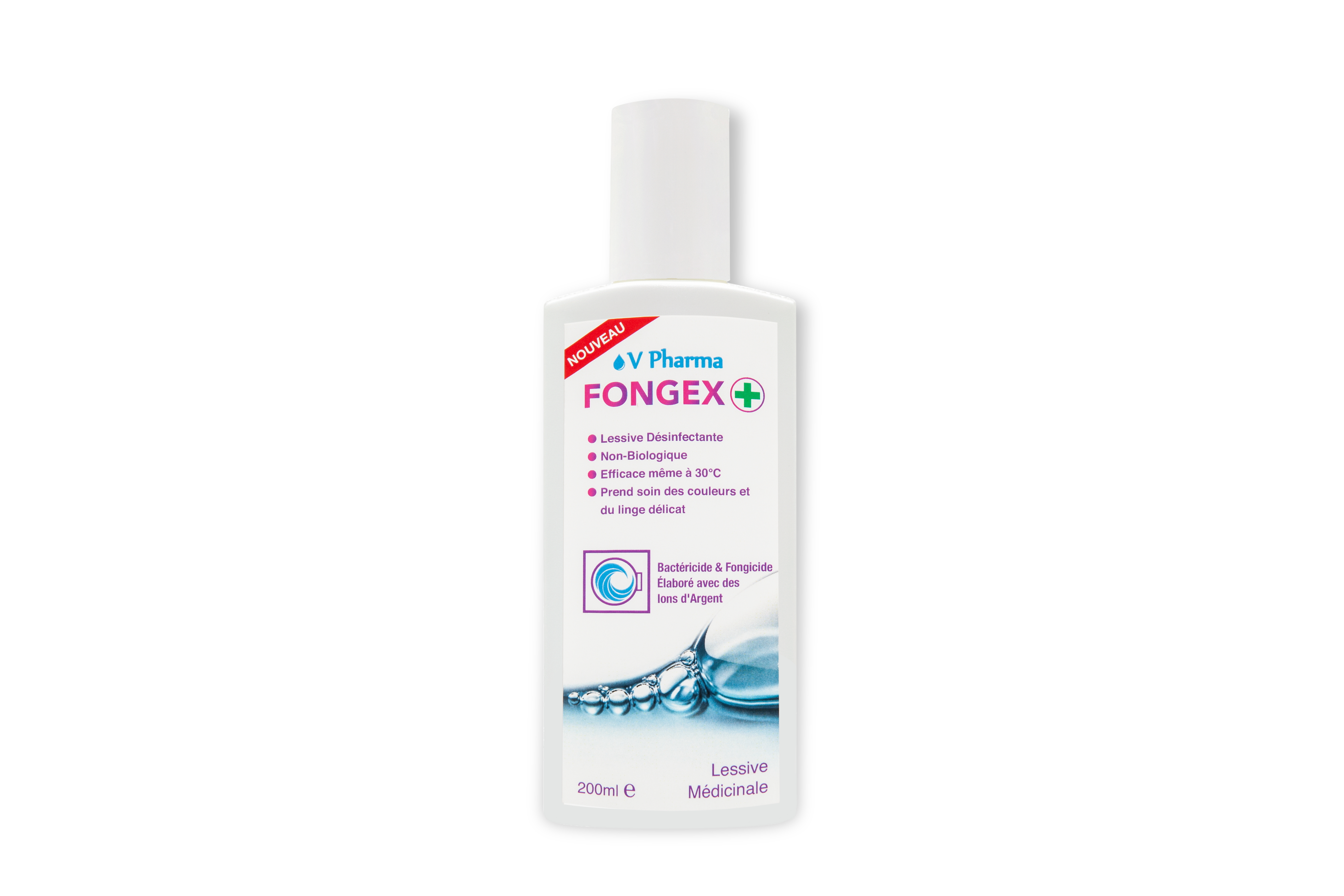 FONGEX (F) 200ml Lessive Désinfectante £7.49+VAT
£8.99
Les infections fongiques, bactériennes et les levures peuvent persister sur le linge et contaminer le reste de la lessive lors du lavage à basse température. FONGEX™ combat toutes ces infections en désinfectant votre linge pour stopper la réinfection, même à 30 degrés.
FONGEX™ doit toujours être utilisé en combinaison avec les traitements spécifiques à ces infections. En cas de doutes, consultez votre médecin ou votre pharmacien.
Ne pas avaler FONGEX™ ni l'appliquer sur la peau.
Description
FONGEX™ est normalement utilisé pendant le cycle de pré-lavage de votre machine.Pour les infections tenaces, il est possible de mettre une dose un peu plus grande de FONGEX™ à la place de votre lessive habituelle.
Quelle dose utiliser ?
PRE-LAVAGE : Mettre un bouchon (20ml) dans le bac de prélavage. Mettre votre lessive habituelle dans le bac à lessive.
LAVAGE : Mettre 2 bouchons (40ml) dans le bac à lessive, substituant votre lessive habituelle.
LAVAGE À LA MAIN : Utiliser un bouchon (20ml) dans suffisamment d'eau pour avoir de la mousse. Mélanger et rincer abondamment.
Pour de meilleurs résultats
Ne pas surcharger votre machine à laver.
Respecter les indications de lavage sur les étiquettes des vêtements.
Ingredients
Agents de surface anioniques 15-30% ; agents de surface non-ioniques 5-15% ; 2,65/100g o-phénylphénol, 1,3g/100g chlorocresol, 0,01g/100g chlorure d'argent, 0,04g/100g dioxyde de titane, hexylcinnamaldéhyde, salicylate de benzyle, lilial, citronellol, lyral <5%
Delivery & Returns
UK: Post & packing (2nd class Royal Mail) £3.10 + VAT. Non-UK: Post & packing £15. For more details on delivery, please read our delivery information. We want you to be happy with your purchase. If you are not, just return the product to us, and we'll exchange or refund it. You can find out more in our returns policy.